Sacral Neuromodulation
Dr. Aboseif has an extensive experience in neuromodulation of the urinary tract for voiding dysfunction and chronic pelvic pain. He had taught this procedure both nationally and Internationally
What is Medtronic's Interstim Therapy?
This is a small implantable device similar to heart pacemaker which generates mild electrical pulses. These pulses are delivered near your sacral nerve through an insulated wire called a " lead". The lead and the neurostimulator are implanted under the skin This device has been implanted in over 100,000 patients worldwide to treat the symptoms of overactive bladder (urge incontinence, urgency-frequency) and various forms of voiding dysfunction and urinary retention (inability to empty the bladder).

Testing the Interstim Therapy system
In order to determine whether the Interstim Therapy system will work for you, Dr. Aboseif will perform a "test stimulation procedure"
The test stimulation procedure takes about 30 minutes and is performed in the office. A temporary lead is inserted in the sacral area (tail bone) next to the proper nerve. The lead is connected to an external test stimulator box (which can be worn on your belt). The temporary test stimulation system is worn for 3-7 days. If the test stimulation provides relief of your symptoms, you will be a candidate for long-term Interstim Therapy.

Long-term Inetrstim Therapy
This is a simple surgery performed in the operating room under local anesthetic. The entire procedure takes about an hour. Both the permanent lead and the generator are placed under the skin. The generator (about the size of ½ silver dollar) is usually placed in the upper buttock.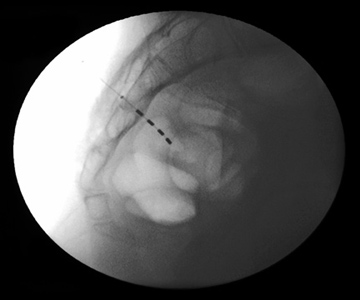 Dr. Aboseif has implanted more then 1000 Inetrstim Therapy device. He has been the leading author for multiple articles looking at the long-term effect on patients with severe incontinence and voiding dysfunction.
– Aboseif, S; Tamaddone, K, Chalfin, S. and Freedman, S: Sacral Neuromodulation as an effective treatment for refractory pelvic floor. Urology 60 (1): 52-56, 2002
– Aboseif, S; Chalfin, S.; Freedman, S: sacral nerve stimulation in patients with Functional urinary retention. Br. J Urol 90 (8) 662-665 , 2002
– R. Yang, M. Hassouna, A Diokno, D Gordon, J Benson, M Kennelly and S. Aboseif: Comparison of interstim Neuromodulation device implantation techniques: Temporary lead implantation Vs staged implantation. J. Urol171, A495, 2003
– Aboseif SR, Kim DH, Rieder JM, Rhee EY, Menefee SA, Kaswick JR, Ree MH. Sacral neuromodulation: cost considerations and clinical benefits Urology. 2007 Dec;70(6):1069-73; discussion 1073-4.