Erectile Dysfunction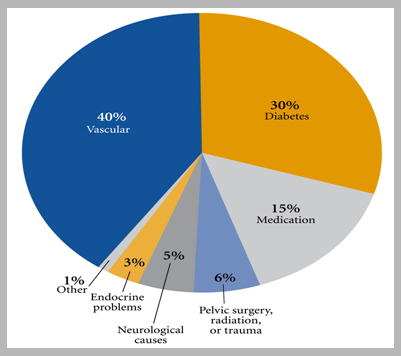 Erectile dysfunction, known as ED is defined as the inability to achieve or maintain an erection firm enough to have sexual intercourse. This is a very common problem in men of different ages.
The Massachusetts Male Aging Study have shown that more then Half of Men Over Age 40 Experience ED. Prevalence of ED usually increases with age
40s – 39%
50s – 48%
60s – 58%
70s – 68%
80% of ED is usually associated with coexisting conditions as diabetes, hypertension, high cholesterol, neurologic problems, prostate problems and different medications.
Evaluation of erectile dysfunction
West Coast Urology center uses an integrated approach to determine the cause of male sexual dysfunction. We usually start by ordering blood work including hormonal panel, lipid profile, liver function, thyroid function, kidney function and blood sugar.
Diagnostic capabilities include a state of the art Colored penile Doppler ultrasound, which permits a noninvasive functional evaluation of the penile arteries; cavernosometry/cavernosography for the evaluation of penile veins; and pharmacologic testing of erectile function. This will allow us to determine the exact cause of ED so we can correct it.
Treatment options include:
Oral Medications

(Viagra, Levitra, Cialis and Stendra) These medications help to increase blood flow to the penis. They work only in response to sexual stimulation and require the presence of intact penile nerves. They must be taken ½ hour before anticipated sexual activity on empty stomach. Taking those pills on full stomach will delay the action of these drugs. Viagra ,  Levitraand Stendra remain effective for up to 4 hours, however, Cialis can be effective up to 36 hours,  These are well tolerated drugs.  Side effects are usually mild and include: Headache, flushing, blurring vision, runny nose, upset stomach and myalgia.
Some insurance companies cover the Cost of these medications, which ranges between $20 – $30 per pill.
Vacuum Erection Devices


This is a mechanical external device that consists of a plastic cylinder and a rubber band. The cylinder is palced on the penis, By applying manuel or battery operated suction, it will dilate penile arteries and help to increase penile blood flow. A rubber band is applied at the base of the penis which will compresses the penile veins and decrease venous outflow.
Vacum device has the advantage of being safe, non invasive and effective in mild cases
Penile Injection Therapy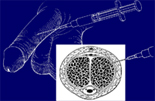 Penile injection therapy is a simple procedure that may seem to the first time user to be offensive. Many patients thought they could not do the self-injection and later, after an educational session, they are able to perform this simple procedure without difficulty. We ask you to have an open mind and only reject this therapy if after a few instructional sessions you are unable to tolerate or perform the procedure. We commonly use a drug know as Prostaglandin E1 which is a very potent vasodilator that help to increase penile blood flow. It acts directly on the penile smooth muscles, so no systemic side effects and no need for sexual stimulation or intact nerves. It is one of the best treatment in patients with damaged nerves as after prostate surgery or neurologic diseases as spinal cord injury. The dose can be adjusted according to the person needs. It can be combined with other drugs to make it more potent.
Urethral Suppositories


A small medicated pellet, containing Prostaglandin E1 is placed in the tip of the penis. It is Relatively easy and less discomfort then injection, but it works only in mild cases.
Penile Implants
This is usually recommended in men who have tried other treatments without success or are unsatisfied with other treatment modalities. They have been available for over 30 years with more then 25,000 penile implants performed every year. Penile implants have the highest patient and partner satisfaction among all treatment options. There are two types of implant: semi-rigid and inflatable.
Semi-rigid (Non-Inflatable) Penile Implant:

This is the simplest implant that can be inserted by a small surgical procedure. It stays firm when not in erect position, but can be totally concealed in body. It is a good option for men with limited dexterity.
Inflatable Penile implant:
This can be inflated and deflated as needed. It is totally concealed in body and acts and feels more like a natural erection. It expands the girth of the penis and is more firm and full than other implants. Feels softer and more flaccid when deflated. It does require some manual dexterity to inflate and deflate.

There are two companies that manufacture penile implants:
Coloplast
American Medical system
EDcure.org
Dr. Aboseif has an extensive experience in insertion of different kinds of implants. He has been involved in some of the most difficult and challenging cases that required reconstruction of the penis at the same time. He has multiple publications in peer review journals and has been involved in clinical evaluation of many of these products.
A P Pathak, J Chang, S R Aboseif: Use of Rectus Fascia Graft for Corporeal Reconstruction During Placement of Penile Implant: Urology 65:6, 2005.
Brusky, J.P and S R Aboseif: Combined Penoscrotal and Perineal Approach for Placement of Penile Prosthesis with Corporal Fibrosis Adv Urol. 524392: 2008