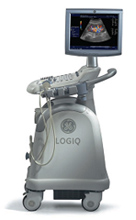 Color Doppler Ultrasound – Penile
Our Laboratory is equipped with a state of the art color Doppler Ultrasound machine. This will allow us to evaluate your kidneys, bladder, prostate, penis and urethra.
A penile Doppler ultrasound is a noninvasive procedure that helps to evaluate your penile vascular system and determine if you have an inflow (arterial) or outflow (venous) types of erectile dysfunction. This will help us to determine the best way to manage your problem and helps to predict your response to various vasodilator agents. . It would be wasteful and an inconvenience to you to try all different therapies if this study could predict their failure up front. If you have a severe problem in your penile arteries, then different therapies that increase blood flow to the penis may not be adequate for maintaining erections hard enough and/or long enough for satisfactory intercourse.
Indication:
1 – Erectile dysfunction of unknown etiology
2 – Suspicious of penile veno-occlusive disorder as in young patients with ED
3 – Penile deformity and Peyronies disease
4 – Pelvic and penile trauma
5 – Patients without symptomatic coronary or peripheral vascular disease presenting with ED where penile Doppler is used to assess the risk of cardiovascular disease and need for further cardiac or peripheral vascular assessment. In the last group, significant risk factors such as hypertension, smoking, trauma, hyperlipidemia, diabetes mellitus, obesity and inactivity are closely related to ED and decrease in sexual ability is regarded as one of the first clinical parameters of increased risk of significant CAD or peripheral vascular disease
Preparation for penile Doppler Ultrasound:
No special preparation is needed for this test. You dont need someone to drive you as you will be able to drive home yourself
Procedure: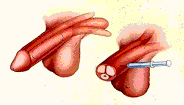 The test will be performed while you are lying on your back on the examining room table. A penile injection of a vasodilator agent called Prostaglandin E1will be performed using a very small needle. This will help to relax the erectile muscles in your penis, dilate your penile arteries and constricts your penile veins. This will result in increase in the blood flow to your penis and give you an erection.
Using a small ultrasound probe, specifically designed for the penis, we will measure the blood flow in the cavernous artery on both sides of the penis. We then allow you to have privacy and view a pornographic video to assist with arousal. Another measurement of the penile blood flow will be done 15-20 minutes after the injection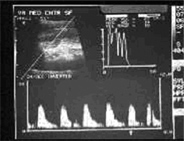 There is no pain involved during this portion of the procedure. You will experience a very short, mild discomfort initially during the penile inject.
After the test, Dr. Aboseif and his team will be able to determine the cause for your erectile dysfunction and discuss the different treatment options with you and your partner.
Possible risk after penile Doppler Ultrasound:
You might experience mild discomfort during the penile injection. You might also develop small bruise in the skin at the site of the injection. The erection should go down before you leave the office, however, occasionally; some patients may experience a very prolonged erection, lasting more than 2 hours. If this happens, a small needle will be placed in the penis to drain the blood. The erection will go down immediately.